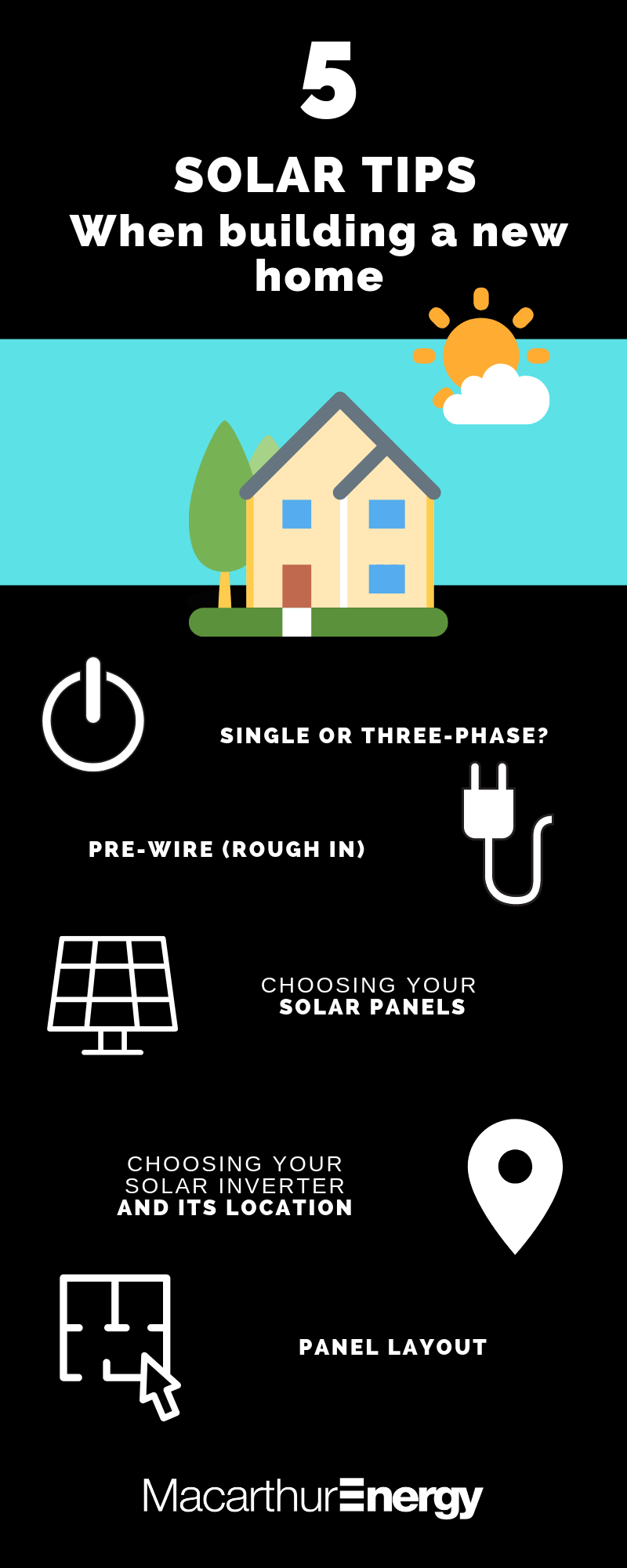 1. Single phase or three phase
Most new small to medium sized homes will be wired with a single phase supply or one active (live) wire. Usually larger homes with ducted air conditioning will have three phases. Even if you're only building a modest size home, you should consider going three phase. In NSW, any solar system connected to a single phase supply is required to limit the amount of electricity exported back to the grid to 5kWs. In layman's terms, this means if you had 10kW's of panels on your roof and you weren't using all of the power being generated you can only send 5kWs back to the grid. A three phase supply is allowed much more. Upto 30kWs of your generated solar power is allowed to be exported to the grid. Meaning with some very generous feed in tariffs available from your energy retailer this can be a very lucrative ROI of your solar system.
2. Pre wire/rough in
Every sparky will tell you, its much easier to run new cables before the installation of any gyprock or insulation in a new home. However, not all sparkies know how these solar cables need to be run. Solar cables in a home can reach upto 600v DC. They are different from all other cables and need to be enclosed in heavy duty conduit regardless of whether they are inside or on the roof. The only time solar cables are not live is when the sun isn't shining and therefore strict regulations apply regarding how these cables can be installed. Often the builders electricians are not Clean Energy Council accredited and not upto date with the solar requirements of AS/NZS3000 standards. Keep in mind that the accredited solar electrician signing off on your solar system is taking full responsibility of the internal wiring so you will find it hard to get a good quality solar installer willing to put their license on the line without adequate evidence this was installed correctly. This is why we recommend having your desired solar electrician pre-wire the solar cables during the construction phase.
3. Choosing your solar panels
When choosing your solar panels there is a lot to take into consideration. If you think you may stay in the home for a number of years it's a good idea to choose a more superior panel manufacturer like LG or Sunpower which will maintain their production values much longer then some of the cheap panels on the market. This will give you an overall higher-yield and result in more savings. The degradation of the panel will play a big part in this. Although it may not seem like much, a 0.5% difference in degradation could mean thousands of dollars lost over the life of the system. You may prefer to save upfront on the cost of the system and select a mid range panel like Trina or Jinko which will still come with a high standard of testing but with a slightly higher degradation rate. These are some of the things you may want to talk to your prospective solar installer about. Along with panel efficiencies, warranties and the stability of the company manufacturing the panels.
4. Choosing your solar inverter and its location
Solar panels may be on top but research tells us it's the inverter doing all the real work. The inverter converts the DC power into alternating current, the form of electricity your home can use. Although we would recommend to a micro inverter system such as Enphase, its possible you may choose a string inverter system. This is often a large box mounted somewhere near the meter board to reduce the voltage rise on the ac side of the inverter. A good location for this is a south facing wall or in the garage were its protected from the direct sunlight and some weather conditions. The closer the inverter is to the meter board the better, so keep this in mind when your builder is planning your electrical wiring. The monitoring of your inverter is also very important. Some smart solar inverters will have consumption monitoring capabilities which will allow you to see the power your home is using as well producing. Most monitoring systems will need a wifi connection, although when it's possible we like to hard wire a data connection to your modem.
5. Panel layout
It's understandable you are not going to design your new home around your solar system but there are some simple things you can do to help maximise the roof space available for your solar system. Keep in mind the northern orientation is the most useful, so it's a good idea to install tv antennas, satellite dishes and even sky lights in positions that will not cause shading or take up valuable roof space for your solar system. If your unsure of any of this, ask your prospective solar installer to help with the design in the planning stages.
Building a new home can be a very stressful process and adding solar power to the long list of things to think about is probably the last thing you want to do. A good installer will be able to guide you through the process and help provide a stress free solar experience that will pay for itself for years to come. So if your building a new home in Sydney, Wollongong or even the Southern Highlands please give us a call and we will be happy to guide you through your solar journey!